Attend
Join the CPA and more than 1,800 of your peers and colleagues from coast to coast, at Canada's largest learning, sharing and networking event dedicated to those engaged in the science, practice and education of psychology in Canada – The CPA National Convention and CPA Marketplace trade show.
Toronto is one of the world's most culturally diverse cities, and it shows – elements of all sorts of nations and peoples overlap, intertwine and blend together into one Big City Buzz. Toronto is a sophisticated, cosmopolitan city that has a compelling combination of natural escapes, Canadian heritage, ethnic diversity and a growing urban core filled with shopping, arts and dining.
You definitely won't want to miss the 2017 CPA National Convention. Not only will you get to hear from a who's-who list of Keynotes and Featured Speakers, you'll also have the unmatched opportunity to choose from an incredibly diverse list of PD Workshops, Symposia, Posters, and CPA Section Annual Meetings. This is your unique opportunity to: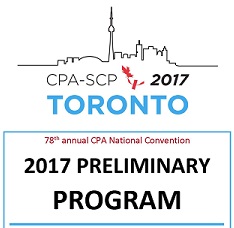 LEARN more about best practices
GROW your standing within the profession by increasing your knowledge, profile and visibility
SHARE in the innovation that is happening in your profession
NETWORK with peers and subject matter experts from coast to coast
CONNECT with your national association and gain new insight into your profession's challenges and needs

---
Volunteer
It takes a lot of time, energy and personnel to deliver a national convention of this caliber for our members and affiliates. And it wouldn't be possible to do it year after year, without the incredible on-site assistance provided by our convention volunteers. Whether it's helping at the registration desk, assisting speakers, taking care of meeting rooms, taking attendance, or helping delegates find their way (to name just a few)… if you have a few hours or days that you would be willing to give, we'd love to talk to you. Please complete our VOLUNTEER APPLICATION form and email it to us at your earliest convenience. We look forward to working with you!
THANK YOU