CPA Marketplace
       
About the CPA Marketplace trade show
The CPA's Annual National Convention (and CPA Marketplace trade show) is the largest annual gathering of those involved in the science, practice and education of psychology from across Canada. It averages between 1,600 – 1,900 scientists, practitioners and students of psychology each year and covers a variety of psychology-related topics and presentation formats such as posters, workshops, symposia, keynote lectures, and the CPA Marketplace Trade Show. It is also the perfect forum to network and exchange information on initiatives and best practices, and to develop practice and research collaborations with colleagues from across the country.
Where: Toronto, Ontario
When: CPA Marketplace trade show dates are June 8 – 9, 2017.
The CPA National Convention takes place from June 8 – 10, 2016.
CPA Marketplace trade show

Booth #
List of Exhibitors
1
Doctors Without Borders
2
Nelson
3
Multi Health Systems
4
Medavie Blue Cross
5
Cognistat
6
American Psychological Association
7
Pearson
8
Avis Budget Group
9
CIMVHR
10
Canadian Assembly of Narcotics Anonymous
11
Southdown – Healthy Ministers for a Healthy Church
12
Goodlife Fitness
13
Interaxon
14
UHN Altum Health
15
The Personal – Home & Auto Insurance
16
Thought Technology Ltd.
17
BMS – Professional Liability Insurance for Psychologists
18
Mental Health Commission of Canada
19
TD Bank
20
Owl Practice – Practice Management Software
CPA Marketplace
trade show floorplan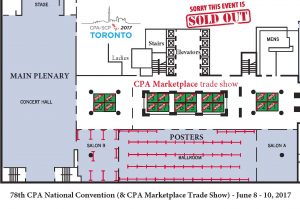 Why be an exhibitor in the CPA Marketplace?
Psychologists – practitioners and scientists alike – are highly trained and skilled in areas of mental health care services and interventions, program evaluation, research, and higher education. They hold positions of high influence in government, health care, academia, not-for-profit organizations, and private industry – to name a few. Join us in Victoria and you can meet face-to-face with both current and future psychologists who make use of the types of products and services that you have to offer.
As an Exhibitor and/or Sponsor at the CPA National Convention, you can:
Build awareness and position your brand as an industry leader
Demonstrate your organization's commitment to applied and experimental psychology in Canada
Receive valuable exposure to potential (and current) clients throughout the CPA National Convention
Network and build relationships with fellow sector and industry leaders
The annual CPA National Convention is one of the premier psychology conferences in Canada, serving as a forum in which practitioners, scientists, science-practitioners, and students come together for three days each year to share and learn about new developments impacting psychological practice, science, and education.
Take advantage of this convergence to not only showcase your products and services in the industry, but to also demonstrate your support for the psychology field and those who work in it.
---
Previous CPA National Convention Statistics
Who Attends?
Consider the following overall demographics of CPA members and affiliates:
65.6% Have doctoral degrees
16% Work in hospitals or health care settings
33% Work in private practice (solo or group)
21% Work in academic settings
63% Are members of a regulatory body
30.5% Men
69.3% Women
Previous Delegate Attendance
  
Tradeshow and Sponsorship Information
Agnieszka Arkuszewski
Membership, Events & Association Development Associate
aarkuszewski@cpa.ca
T: 613-237-2144, ext. 325
(toll free in Canada)
1-888-472-0657 ext. 325