2019 Sponsorship Exhibitor Advertising Information
Reach Thousands of Current and Future Psychologists!
The CPA National Convention is one of the premier psychology conferences in Canada, serving as a forum in which practitioners, scientists, science-practitioners, and students come together for three days each year to share and learn about new developments impacting psychological practice, science, and education. The convention averages between 1,600 – 1,900 delegates each year and covers a variety of psychology-related topics and presentation formats such as posters, workshops, symposia, keynote lectures, and the CPA Marketplace trade show.
Where: Halifax, Nova Scotia
When: CPA Marketplace trade show dates are May 31 and June 1, 2019.
The CPA National Convention takes place from May 31 to June 2, 2019.
Why be a Sponsor?
Take advantage of this convergence to not only showcase your products and services in the industry, but to also demonstrate your support for the psychology field and those who work in it. Psychologists (practitioners and scientists alike) are highly trained and skilled in areas of mental health care services and interventions, program evaluation, research, and higher education. They hold positions of high influence in government, health care, academia, not-for-profit organizations, and private industry – to name a few. Join us in Victoria, and you can meet face-to-face with current and future psychologists who make use of the types of products and services that you have to offer.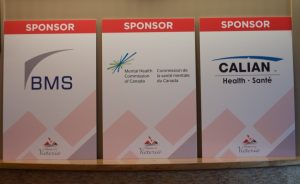 As an Exhibitor and/or Sponsor at the CPA National Convention, you can
Build awareness and position your brand as an industry leader
Demonstrate your organization's commitment to applied and experimental psychology in Canada
Receive valuable exposure to potential (and current) clients throughout the CPA Convention
Network and build relationships with fellow sector and industry leaders
Download a complete copy of the full 2019 CPA Exhibitor & Sponsorship Prospectus
For more information on exhibitor and sponsorship opportunities, please contact Kathryn McLaren at
sponsorship@cpa.ca