Section Program Speakers
---
Friday, June 17, 2022
Interventive Interviewing and Reflexive Questioning
Karl Tomm, University of Calgary
Session ID: 70765 – Section Featured Speaker Address (55 minutes)
Room: Bannerman (3rd Floor), 09:45 – 10:45
Section: Family Psychology / Psychologie de la famille

The specific questions that a therapist asks during the course of a clinical interview are not neutral or innocent.  Depending on the therapist's intention in asking, and the manner in which the questions are formulated and expressed, they tend to have very different effects. For instance, questions can have generative and healing effects on clients, or can have constraining and pathologizing effects.  Karl has developed a classification of four major categories of questions that are based on differing intentions and which clarify different probable effects on interviewees. This framework and the differences among these questions will be outlined.  One particularly interesting group of questions, namely 'reflexive questions,' will be discussed in greater detail since they tend to open space for therapeutic possibilities and for spontaneous constructive change."
Bystander Intervention in Workplace Harassment: Insights from Research
Sandy Hershcovis, Haskayne School of Business, University of Calgary
Session ID: 71784 – Section Featured Speaker Address (55 minutes)
Room: Imperial Ballroom 5,7,9 (3rd Floor) , 09:45 – 10:45
Section: Industrial and Organizational Psychology / Psychologie industrielle et organisationnelle

Over the last few years, institutions have introduced training programs to encourage bystanders to intervene in response to various forms of workplace harassment (e.g., bullying, incivility, sexual harassment, abusive supervision). The assumption behind these programs is that bystander intervention is a helpful tool for reducing workplace harassment. Yet, perhaps surprisingly, we know little about bystander intervention. In this talk, I will present a series of findings from my research with colleagues on bystander intervention that consider such questions as who intervenes, when, and why? I will also discuss some key barriers to bystander intervention and present data that show that sometimes bystanders can be part of the problem. Bystander intervention may be an important tool for addressing workplace harassment, but more research is needed to understand how to best intervene, and the conditions under which these interventions are most likely to be effective.
Optimizing Mental Health in the Transition to Parenthood: From Research to Policy
Lianne Tomfohr-Madsen, University of Calgary
Session ID: 71463 – Section Featured Speaker Address (55 minutes)
Room: Imperial Ballroom 5,7,9 (3rd Floor) , 11:00 – 12:00
Section: Clinical Psychology / Psychologie clinique

Pregnancy and the postpartum period are a time of elevated risk for experiencing mental health problems; without treatment, these confer both short-term (e.g., preterm birth, postpartum depression) and long-term (e.g., child mental health problems) adverse outcomes for families across generations. People experiencing high levels of socially determined adversity, which is highly influenced by policy decisions, are more likely to experience mental health problems in the transition to parenthood period and they are also the least likely to be able to access psychological services. In this talk, Dr. Tomfohr-Madsen will review the predictors and consequences of untreated perinatal mental health problems. She will also review the state of the evidence for current psychological interventions to treat parent mental health problems during this critical developmental period, with an emphasis on both promising findings and gaps in the literature. Finally, she will discuss attempts to influence policy with the goal of increasing affordable and equitably accessible psychological services in the transition to parenthood period. Mental health interventions in the transition to parenthood period have the potential to reduce mental health disparities and improve wellbeing in the next generation.
Back to the Future: Examining Psychology's Past, Reimagining Psychology's Future
Cathy Faye, Cummings Center for the History of Psychology, The University of Akron
Session ID: 74347 – Section Featured Speaker Address (55 minutes)
Room: The Gallery (2nd Floor), 14:00 – 15:00
Section: History and Philosophy of Psychology / Histoire et philosophie de la psychologie

"History has frequently served a celebratory role, called forth to mark the anniversary of a milestone event, to celebrate the contributions of a significant person, or to honor the founding of a key place or organization. History also serves to commemorate the past, marking difficult moments for reflection and learning. More recently in our own field, history has been called forth to account for, acknowledge, and express regret for past harms, as evidenced by the recent apology issued by the American Psychological Association. Despite the different roles for history in each of these cases, in all three, it is called on to frame the present in some meaningful way. In this presentation, I will explore the history of psychology as a "rear-view mirror," a mechanism by which we look back with the clear intention of informing the road ahead. Using stories and projects from our public work at the Cummings Center for the History of Psychology and the National Museum of Psychology, I discuss how we use this rear-view mirror—and the approaches of celebration, commemoration, and reckoning—with the goal of broadening our ideas about what psychology has been in the past and reimagining what it can be in the future. "
Action control as a reflex? The role of habit and identity in the translation of physical activity intention into behaviour
Ryan Rhodes, School of Exercise Science, Physical and Health Education, University of Victoria
Session ID: 71893 – Section Featured Speaker Address (55 minutes)
Room: Imperial Ballroom 1 (3rd Floor), 14:15 – 15:15
Section: Health Psychology and Behavioural Medicine / Psychologie de la santé et médecine du comportement

Engaging in regular physical activity has considerable benefit to health and well-being, yet participation rates are low. Promotion efforts have been complicated by evidence that shows most inactive people know the benefits of physical activity, and even have the intention to be active, but fail to enact the intention. In response, considerable research has now examined the role of volitional self-regulation tactics (e.g., planning, self-monitoring) in helping to translate physical activity intention into behavior. This keynote will overview the evidence for how the development of reflexive constructs (i.e., constructs that trigger behavioural engagement through particular circumstances and stimuli) may also assist in translating intentions into behaviour. While reflexive constructs are sometimes viewed as oppositional to intentional behavior, the evidence and theoretical basis for their positive interaction in behavioral performance is considered. Evidence for instigation habit and role-identity in translating intention into various types of physical activity behaviors across different populations (clinical, family, etc.) is presented. Differences for how, and under what circumstances, habit and identity may affect physical activity action control is highlighted, with examples during the COVID-19 pandemic restrictions. The need for a multi-process (motivational/reflective, volitional/regulatory, reflexive) approach to physical activity promotion is emphasized in interventions within complex systems. 
Developing Roles for Hospital-Based Psychologists: The Ontario Structured Psychotherapy Program
Judith Laposa, Centre for Addiction and Mental Health
Session ID: 71069 – Section Featured Speaker Address (55 minutes)
Room: Walker (3rd Floor), 15:00 – 16:00
Section: Psychologists in Hospitals and Health Centres / Psychologues en milieu hospitaliers et en centres de santé

Psychologists in hospital-based settings are increasingly less likely to provide fulltime clinical services. We discuss psychologists' central role in the development and implementation of the Ontario Structured Psychotherapy (OSP) Program, based on the highly successful "Improving Access to Psychological Therapies" model from the United Kingdom that offers publicly funded, evidence-based psychotherapy for individuals struggling with depression and anxiety related challenges. Measurement based care is embedded at assessment and throughout treatment. The demonstration phase of the OSP project started in 2017 with four lead hospitals and recently expanded to a fully funded provincial program with 10 regional network lead organizations. Psychologists' roles within OSP span leadership, clinical program development and outcome evaluation, service delivery of assessment and treatment, educational course development, rigorous training of new cognitive-behavioural therapists, and clinical consultation. Psychologists also advocate for a duration of treatment consistent with treatment guidelines. We will explore navigating changing environments and service demands, the position of psychology amid a multidisciplinary hospital setting, and how flexibility in roles can help psychologists maintain their professional identity and optimize utilization of their extensive training and expertise.
Between the Lines: Working in/with Depression
Lynda Ross, Athabasca University
Session ID: 69886 – Virtual Section Featured Speaker
Room: Neilson 1 (3rd Floor), 15:00 – 16:00
Section: Women and Psychology / Femmes et psychologie

This presentation will examine Emmy Gut's contribution to psychology. She developed a unique theory which, although largely uncelebrated, distinguished productive from unproductive depression. The presentation will also describe her relationship with Dr. John Bowlby, a leading psychoanalyst famous for his work on attachment theory. A year following her second husband's death in 1969, Ms. Gut contacted Bowlby because his work on mourning spoke to her own deep and unabating state of grief. While her views of the world were clearly coloured by bouts of depression, Ms. Gut's extensive and detailed correspondence with Bowlby, spanning a period of two decades, documents the ways in which her work was influenced by their personal, therapeutic, and intellectual involvement. Through a deconstruction of the text of Ms. Gut's letters to Bowlby, this presentation will explore the impact of their relationship on her personal and theoretical understandings of depression. In doing so, the story presented encourages the continued assessment of the psychiatric discourse surrounding disorder generally and depression specifically. More broadly, this analysis provides additional support for a continued feminist exploration of strategies to create alternative normalizing discourses to acknowledge without pathologizing womens painful responses to challenges they face in contemporary society.
Student Symposium: Mental Health, Coping, and Psychological Service Use During the COVID-19 Pandemic.
Moderator: Lily Pankratz, University of Manitoba
Session ID: 71759 – Section Invited Symposium (55 minutes)
Room: Imperial Ballroom 8 (3rd Floor), 15:00 – 16:00
Section: Clinical Psychology / Psychologie clinique

The COVID-19 pandemic and its related public health restrictions have had a negative impact on mental health in the general population, and particularly in individuals in certain life stages and/or who were already at higher risk of mental health difficulties before the onset of the pandemic. Three CPA student affiliates will present research they conducted related to the COVID-19 pandemic, for which they employed a combination of both quantitative and qualitative research methods. Dr.  Lianne Tomfohr-Madsen will discuss common themes and lessons derived from these studies.
Advancing Structural Competency and Innovation in Neuropsychology To Achieve Brain Health Equity: Looking Back and Moving Forward
Cristi Salinas, Neuropsychology Concierge
Session ID: 70079 – Section Featured Speaker Address (55 minutes)
Room: Imperial Ballroom 3 (3rd Floor), 15:00 – 16:00
Section: Clinical Neuropsychology / Neuropsychologie clinique

Neurological disorders are among the leading causes of disability in Canada. Epidemiological and community studies reveal increased behavior and academic/occupational problems in children and adults with neurodevelopmental and neurological conditions compared to same-aged peers. Diagnoses of behavioral, emotional, and cognitive comorbidities is often undiagnosed, under-diagnosed, or misdiagnosed. Black, Indigenous, Latinx, and Asian populations plus those living in rural areas experience healthcare disparities compared to whites in urban areas. This workshop will provide an overview of cultural vs. structural competency (humility) and their association with healthcare disparities in neuropsychology. An innovative practice model that leverages Design Thinking, community-participatory methodology, and population health management solutions for equitable neuropsychological service delivery will be presented. Case illustrations and strategies for clinical applications with a focus on teleneuropsychology (TeleNP), multidisciplinary consultation, and rapid mobile screenings will be provided. Recent inter-organizational efforts to advance equity, diversity, and inclusion in neuropsychology will be discussed.
---
Saturday, June 18, 2022
Daring to hope: What a hummingbird's story can tell psychologists about community wellness and social justice.
Elisa Lacerda-Vandenborn, University of Calgary
Session ID: 71520 – Section Featured Speaker Address (55 minutes)
Room: Imperial Ballroom 8 (3rd Floor), 09:30 – 10:30
Section: Students in Psychology / Étudiants en psychologie

This presentation parallels an Indigenous story told in South and North America to the task ahead of disciplinary psychology and those who work within it, to meaningfully embark on the journey towards social justice. The presentation also discusses the principles, positioning, and intentionality behind _Apoema: Community Perspectives _research group in enacting psychology through a communal lens. It discusses the centrality of courage and hope to break theoretical and methodological traditions that have placed psychology in the condition of the oppressor and discusses key insights that led to the sketching of a 'communally constituted selfhood theoretical framework'. This framework seeks to offer those working with diverse and intersectional communities with an interdisciplinary structure from which to articulate wellness service provision, education, and research in ways that that attends the aspirations and needs of the communities they serve, operates from the premise of community capacity and wisdom, and works in relationality with and for the benefit of community partners.
Advancing the Trauma-Informed Care Movement in Canada
Delphine Collin-Vezina, McGill University
Session ID: 71444 – Section Featured Speaker Address (55 minutes)
Room: Imperial Ballroom 8 (3rd Floor), 13:00 – 14:00
Section: Traumatic Stress / Stress traumatique

It is well-established that childhood trauma– including maltreatment experiences - can derail normative child development across all domains. Despite Canada endorsing the United Nations Convention on the Rights of the Child, which states all children require protection from abuse and exploitation, studies have confirmed that child trauma is still shockingly prevalent, with 32% of Canadian adults reporting child abuse experiences. To address this important social issue, a trauma-informed care (TIC) approach to practice and policy has gradually emerged to promote a culture of safety, empowerment, and healing around victims of child abuse. While enthusiasm for and commitment to TIC are slowly increasing in Canada, this work is limited in scope and impact due to a lack of coordination across geographic, linguistic, and sectoral barriers. In addition, this field has yet to adequately address the systemic inequity that affects Indigenous communities and other populations disproportionally affected by violence and trauma. This presentation will feature the mission, vision, and activities of the newly established Canadian Consortium on Child and Youth Trauma, a federally funded partnership that aims to respond directly to the immediate need for evidence-informed and comprehensive actions to address child trauma and initiates a major leap in the advancement of a TIC movement in Canada.
International and Cross-Cultural section student symposium
Moderator: Randal Tonks, Camosun College
Session ID: 71220 – Section Invited Symposium (55 minutes)
Room: Stephen Room A (3rd Floor), 15:00 – 16:00
Section: International and Cross-Cultural Psychology / Psychologie international et interculturelle

"Each year the International and Cross-Cultural psychology section provides a forum for students to present their research. This year's symposium highlights two studies: one on the role of hope in the amelioration of acculturative adaptations among newcomers to Canada and the other on the cultural adaptation of Venezuelan refugees in Columbia.  "
Differential Dominance: Meaning and Modeling
Andrew Hayes, University of Calgary
Session ID: 71177 – Section Featured Speaker Address (55 minutes)
Room: Stephen Room B (3rd Floor), 15:00 – 16:00
Section: Quantitative Methods / Méthodes quantitatives

Mediation analysis is used to examine the mechanism(s) by which causal effects operate. Moderation analysis is used to examine the contingencies of effects—the contexts, situations, or individual differences that influence the magnitude or direction of effects. Most processes operate through more than one mechanism simultaneously, and mechanisms can be differentially moderated, sometimes resulting in a pattern I call "differential dominance." In this talk, I introduce and explore the concept of differential dominance, which occurs when one mechanism dominates another for some people or in some circumstances, whereas a different mechanism dominates for other people or in other circumstances. I provide an illustration of differential dominance, and I show how differential dominance can be quantified and modeled.
Grasping the Invisible: The Cognition of Abstract Things
Penny Pexman, University of Calgary
Session ID: 71261 – Section Featured Speaker Address (55 minutes)
Room: Imperial Ballroom 5,7,9 (3rd Floor) , 15:00 – 16:00
Section: Brain and Cognitive Science / Cerveau et sciences cognitive

Abstract concepts, like _wisdom, joy, _and _friendship_, are central to our mental and social lives and yet they cannot be directly experienced through the senses. As such, they pose a challenge for cognitive models that assume a central role for sensorimotor information in the way we learn and understand concepts. There is growing recognition, however, that it is possible for meaning to be grounded in other ways. In a series of studies, my colleagues and I have explored the roles of language, emotion, and socialness in the acquisition and representation of abstract concepts. I will describe that research and its implications for our understanding of human cognition.
Understanding the diversity in parenting
Moderator: Tessa Ritchie, University of Ottawa
Session ID: 71190 – Section Invited Symposium (55 minutes)
Room: Herald (3rd Floor), 15:00 – 16:00
Section: Family Psychology / Psychologie de la famille

The development of children is the result of a complex interaction between biological (e.g., genetic) and environmental factors (e.g., life experience). One of the most studied ecological factors is parents/caregivers impact on children and youth. This symposium will explore the dynamics of parenting, looking specifically at parent involvement for fathers post-separation, the parent-parent-child dynamics in families who recently immigrated to Canada, as well as the early impact of parents on childrens early cognitive development. In paper 1, Laruche seeks to identify the profiles involvement of 656 separated fathers of children less than 14 years of age. The profiles were developed based on positive involvement activities, indirect care and decision-making and examined in conjunction with father, child, and separation characterizes associated with each profile. In paper 2, Li adopts a person-centred approach with a family lens to examine acculturation gaps among mother-father-child triads in Chinese Canadian immigrant families and their associations with family functioning and individual wellbeing. Finally, in Paper 3, Laflamme uses a longitudinal study to understand the role of paternal and maternal autonomy support (AS) in developing cool and hot components of child EF during toddlerhood.
Featured Speaker Presentation
Shannon Johnson, Dalhousie University
Session ID: 70938 – Section Featured Speaker Address (55 minutes)
Room: Bannerman (3rd Floor), 15:00 – 16:00
Section: Environmental Psychology / Psychologie de l'environnement

The intersection of environmental psychology and health-related fields is critical for tackling important topics in our discipline. Dr. Shannon Johnson, a clinical neuropsychologist and environmental psychologist, merges her expertise in human behaviour and mental health to examine questions at the forefront of human-nature interaction. Evidence supporting the benefits of connecting with nature for physical, mental, and cognitive health, and social well-being will be reviewed. Dr. Johnson will discuss our current disconnection from nature and argue that increasing nature connection through behaviour change is essential for human health, environmental stewardship, and climate change action. Current approaches to behaviour change and strategies to employ these approaches to increase nature connection in ways that consider current inequities and the need for inclusivity will also be highlighted. This talk will underline how perspectives from other areas of psychology and health-related disciplines can strengthen our research and help address current and future challenges facing environmental psychology.
Indigenous Wisdoms for Applied Psychology: Shifting toward Survivance-Based Research, Training, and Practice
Karlee Fellner, University of Calgary
Session ID: 70971 – Section Featured Speaker Address (55 minutes)
Room: Imperial Ballroom 2 (3rd Floor), 15:00 – 16:00
Section: Counselling Psychology / Psychologie du counseling

Since the release of Psychology's Response to the Truth and Reconciliation Commission ([TRC], CPA and PFC, 2018), scholars and clinicians in fields of applied psychology have been seeking ways to shift to more culturally safe and relevant work. This keynote will address critical Indigenous wisdoms that inform needed changes in research, training, and practice through transforming ways of knowing, being, and doing in case conceptualization, assessment, intervention, pedagogy, curriculum, and research in psychology. Centered around the concept of survivance (Vizenor, 1999), which challenges conventional psychological models based in deficit and pathology, Dr. Fellner will propose approaches for a transformative applied psychology. Strategies for decolonizing that are informed by scholarship and practice in this area will be presented, and attendees will learn how these approaches can be used in work that goes beyond Indigenous people and communities specifically. A survivance-based applied psychology offers an Indigenous liberating framework that opens wider possibilities for personal, collective, and intergenerational wellness and healing. This keynote directly addresses the calls for accountability and action within the Task Force Report (2018), and more broadly, the TRC report itself (2015), and apologies issued on behalf of the APA and affiliated divisions (e.g., 2017 and 2021).
CSIOP Student Symposium: The Future of IO Research
Moderator: Rachael Jones-Chick, Saint Mary's University
Session ID: 71769 – Section Invited Symposium (55 minutes)
Room: Imperial Ballroom 3 (3rd Floor), 15:00 – 16:00
Section: Industrial and Organizational Psychology / Psychologie industrielle et organisationnelle

The 2022 CSIOP (Canadian Society for Industrial and Organizational Psychology) student symposium includes research from four students covering a diverse range of topics that are expected to continue to appear as trends in future industrial organizational psychology research. This year's topics include impression management, feedback theory, wellbeing in virtual work, and job automation. The first paper focuses on impression management (IM) profiles in job interviews with the purpose of exploring profiles of IM tactics among job applicants, and how they relate to applicant personality, interview structure, and interview outcomes. The second paper covers the role of feedback in abusive supervision with the goal of understanding the impact of feedback on abusive supervisors' self-awareness and behavior change. The third paper explores gender and the experience of wellbeing in virtual work to examine gender differences in "Zoom fatigue" and experiences of migraine/digital eye strain. The fourth paper explores skill-gaps and automation-related job insecurity by testing whether a perceived skills-gap improves the accuracy of automation-related job insecurity, and whether job insecurity influences attempts to prepare for disruptions. Please join us at the CSIOP student symposium to learn more about this up-and-coming research from current industrial organizational psychology students!
---
Sunday, June 19, 2022
Protective Factors Involved in the Intergenerational Trajectories of Trauma and Psychopathology
Moderator: Nicolas Berthelot, Université du Québec à Trois-Rivières
Session ID: 71327 – Section Invited Symposium (55 minutes)
Room: Neilson 2 (3rd Floor), 09:00 – 10:00
Section: Traumatic Stress / Stress traumatique

Parents who have histories of trauma or psychopathology are at risk of presenting pre-and postnatal psychological distress, mother-infant bonding impairments and parenting difficulties. Early in their development, their offspring are correspondingly more likely to present biological, developmental and affective risk indicators. There is a critical need for identifying the protective factors that may contribute to mitigating the transfer of risk across generations. These protective factors may in turn be targeted through timely interventions with the most vulnerable parents in order to promote resilience in the parent and support healthy development in the child. The first presentation of the symposium will provide a review of the prenatal risk ractors leading to child maladaptive development and of the protective factors that may contribute to offsetting the effect of these risk indicatos. The second presentation will present a novel coding system of adult mentalization regarding past traumas and will present research data suggesting that making sense of past traumas is crucial for insightful parenting. The last presentation will introduce a novel prenatal intervention designed for women who have experienced childhood trauma and will provide initial data supporting the effectiveness of this program.
Re-conceptualizing Extremism: An Information-Processing Perspective
David Nussbaum, The Allen K. Hess Institute for Integrative and Forensic Behavioural Science Inc.
Session ID: 68825 – Section Chair Address (55 minutes)
Room: Doll (3rd Floor), 09:00 – 10:00
Section: Extremism and Terrorism / Extrémisme et terrorisme

Definitions of extremism focus on either the atypicality of the ideology, or their negative, destructive consequences. Neither approach captures the core meaning or essence of the problematic nature of the extremism. Both ignore psychological features of the term, provide no insight into specific information processing characteristics involved, and are deaf to the resonance between extremist ideologies and extremist minds. To redress this state, I re-conceptualize extremism from an information processing perspective. Significant entities consist of a complex system of many independent, interacting nodes within a large array. Examples include the human body, a cell phone, the brain, economies, or national histories. Interactions between all of the system's elements determine its ultimate outcome. Extremist ideologies focus only on a single or very small number of the full set of system elements. Failing to consider the impacts of the unconsidered elements precludes extremist ideologies from providing successful real world solutions to identified problems. The "extremist mind" mirrors the call for oversimplification of complexity at the cost of reality. Examples are provided.     
Considerations in the assessment of age-related disorders of cognition in older adults with bipolar disorder.
Brandy Callahan, University of Calgary
Session ID: 73875 – Section Featured Speaker Address (55 minutes)
Room: Bannerman (3rd Floor), 09:00 – 10:00
Section: Adult Development and Aging / Développement adulte et vieillissement

Bipolar disorder is a chronic mood disorder affecting roughly half a million Canadians. In addition to its core clinical features (severe mood swings cycling between intense highs and lows), bipolar disorder often includes 'trait-like' cognitive difficulties – even during euthymic periods – affecting executive functions and episodic memory most prominently. Considerable evidence from large population studies, systematic reviews, and meta-analyses indicate that bipolar disorder also increases risk for dementia later in life, independent of psychiatric symptom severity or psychotropic medication use. Clinically, it can be challenging to distinguish signs of dementia from the trait-like cognitive difficulties inherent to the disorder when assessing older adults. In this presentation, I will review recent empirical findings describing the cross-sectional and longitudinal cognitive profiles of older adults with bipolar disorder, and highlight key clinical and neuropsychological differences between individuals who do vs. do not develop incident dementia. I will also address some important methodological considerations in the interpretation of neuropsychological test scores in this population, and introduce directions for future research.
The Impact of the COVID-19 Pandemic on Biofeedback Practice: Challenges and Strategies
Elizabeth Hartney, Royal Roads University
Session ID: 72503 – Section Chair Address (55 minutes)
Room: The Studio (2nd Floor), 09:00 – 10:00
Section: Quantitative Electrophysiology / Électrophysiologie quantitative

COVID-19 has increased demand yet created challenges for biofeedback services, including physical distancing between clinicians and clients; sterilization and sanitization; inconsistent client attendance; staff retention; increased client complexity; and new ethical dilemmas. Approaches used to reduce the impact include increased supportive clinical leadership to all staff; split room and remote working options; provision of additional sanitation supplies and masks, and sanitation protocols; flexible booking policies; increased staff incentives and supports; increased mentoring for staff to reduce burnout; increased client-clinician contact and check-ins; consistent policy updates. While not formally assessed, these have resulted in positive feedback from staff and clients. COVID-19 has exacerbated some of the less frequently observed challenges to biofeedback practice and introduced new ones. Increased flexibility and ongoing supportive leadership to enable clinical staff to adjust to the demands of the pandemic have enabled biofeedback practice to be maintained with the least possible impact on clients. Dissemination of pandemic practices are a valuable contribution to the biofeedback field.
Motivating durable learning: focused attention through instructional design
Joseph Kim, McMaster University
Session ID: 72321 – Section Featured Speaker Address (55 minutes)
Room: Imperial Ballroom 8 (3rd Floor), 09:00 – 10:00
Section: Teaching of Psychology / Enseignement de la psychologie

"Most of the undergraduates at McMaster University take introductory psychology in their academic programs. How do you deliver a high-quality educational experience to 6000+ students and maintain an academically rigorous program that motivates deep learning? Research from cognitive psychology on attention, memory and learning has informed our pedagogical decisions to develop evidence-based interventions in education. A key focus has been to promote learning that is durable – extending beyond short-term testing into long-term retention of information that remains with the student after the final exam. In this presentation, I will discuss how academic performance is significantly improved with effective learning strategies that have been established in controlled lab studies and translated to the classroom. These practices work by strengthening long-term retention and depend on instructors to implement effective instructional design and students to take an active role in their own learning.  "
Strange things done in the midnight sun: Advocating for regulation of psychology in the Yukon
Reagan Gale, Neuropsychology North
Session ID: 71037 – Section Featured Speaker Address (55 minutes)
Room: Imperial Ballroom 3 (3rd Floor), 09:00 – 10:00
Section: Rural and Northern Psychology / Psychologie des communautés rurales et nordiques

The Yukon remains the last Canadian jurisdiction where psychological practice is unregulated.  The Psychological Society of Yukon (PSY) founded was founded in 2019 with the intention to raise awareness and advocate for evidence-informed psychological practice and regulation. This panel discussion by PSY Board members will first address the context of psychological practice in Yukon including what psychological services are offered, by whom (including those ineligible for registration in other jurisdictions), and the challenges of providing services throughout the geographically and culturally disparate communities in the territory. The Panel will then present on the history of the Society and its advocacy efforts, including media releases, involvement in the territorial election cycle, meetings with members of Cabinet, Leaders of the Opposition parties, and the discussion of psychology regulation during question period in the legislative assembly. Finally, the panel will offer recommendations for advocacy in other rural and northern Canadian jurisdictions.
The element of place: On the causes and consequences of regional personality differences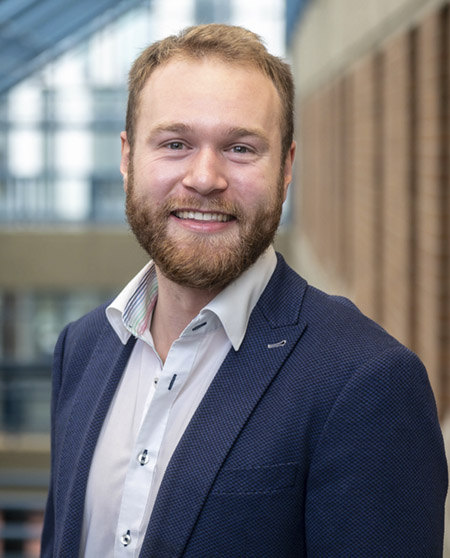 Friedrich Götz, Department of Psychology, University of British Columbia
Session ID: 71993 – Section Featured Speaker Address (55 minutes)
Room: Imperial Ballroom 5,7,9 (3rd Floor) , 09:00 – 10:00
Section: Social and Personality Psychology / Psychologie sociale et de la personnalité

Our personalities have a major impact on our actions, thoughts, and feelings, or put simply: how we spend our lives. In this talk, I show that this is true not only for our own personalities, but also for the personalities of the places in which we live. My research program is organised around three broad questions: 1) how do areas differ in personality? 2) why do areas differ in personality? 3) what do these differences mean for individuals and the regions, cities and neighborhoods in which they live? To address these questions, I combine large-scale geo-tagged personality datasets with diverse real-world behavioral outcomes and ecological indicators (e.g., housing prices, personal financial records, physical topography from satellite images) across multiple countries (e.g., Japan, USA) and spatial levels (e.g., states, cities). I apply a variety of analytic methods including conditional random forests, spatial regressions, multilevel modelling and panel vector autoregressions. Among other results, this work 1) demonstrates systematic regional variation in Big Five traits, courage, loneliness, and the Dark Triad, 2) identifies various ecological (e.g., mountainousness, walkability), sociocultural (e.g., frontier spirit), and economic factors that may contribute to geographical personality differences, and 3) shows how regional personality traits may contribute to outcomes as diverse as suicide rates and individual spending. Together, these findings highlight the methodological versatility of geo-psychological approaches and their practical and theoretical utility for understanding personal and societal outcomes. I conclude with an outlook on how regional personality differences could be studied in–and enrich our understanding of–Canada.
Dr. Friedrich Götz (he/him) is an Assistant Professor in Social-Personality Psychology at the University of British Columbia, where he directs the Personality and Geographical Ambiance Laboratory (PANGEA LAB). Originally from Germany, Dr. Götz obtained his PhD from the University of Cambridge, did a post-doc at the University of California, Berkeley and feels extraordinarily fortunate to have wound up in beautiful British Columbia. While easily excited about anything related to personality, the main focus of Dr. Götz' research is on the causes and consequences of geographical personality differences. To study this, Dr. Götz pursues an interdisciplinary Big Data approach that seeks to combine classic interactionist theories from social and personality psychology with an applied behavioural science perspective and consequential real-world outcomes. Dr. Götz' work has appeared in top journals such as Nature Human Behaviour, American Psychologist, Perspectives on Psychological Science, and the Journal of Personality and Social Psychology and is frequently featured in national and international media outlets such as Scientific American, Forbes, DIE ZEIT, Neue Zürcher Zeitung and the BBC.
In what might be his sweetest gig, Dr. Götz is also a guest contributor at TIME Magazine. Together with Chris Wilson – TIME's director of data journalism – he runs large-scale survey studies that have attracted more than 2.5 million participants to date. At UBC, Dr. Götz teaches various personality courses and a graduate class on geographical psychology.
Outside of the lab, Dr. Götz enjoys running, kayaking and travelling and has a soft spot for dark chocolate, foreign languages, smoky Scotch, old cinemas, German poetry and long walks.
Perspectives on Aging and Retirement: Academic, Research, and Personal Experiences
Moderator: Marnin Heisel, Associate Professor, Department of Psychiatry and Department of Epidemiology & Biostatistics, The University of Western Ontario
Session ID: 74096 – Section Invited Symposium (55 minutes)
Room: Bannerman (3rd Floor), 11:00 – 12:00
Section: Psychologists and Retirement / Psychologues et la retraite

"Retirement is a both a career transition and stage of life that typically occurs in middle to older adulthood, and is often accompanied by a host of questions, concerns, and lifestyle considerations.  Initially conceived as a societal policy to reward lifelong contribution to the workforce and reduce disability and poverty in later-life, retirement has evolved to take on additional meanings and options for the next stages of life (e.g., Sargent et al., 2013), resulting in widely divergent retirement experiences.  The late-2009 abolishment of a formal retirement age in Canada, together with the aging of the vast baby-boom cohort, improving health, and shifting gender roles, have collectively led to a trend towards increased employment among older Canadians.  Yet, the November 2021 issue of the Canadian Labour Force Survey reported that roughly six million Canadians over 65 (85% of the population) were not in the workforce (Statistics Canada).  For some, retirement marks the end of formal work-life and the start of a stage of life typified by leisure, travel, hobbies, and increased social interactions.  For others, it is a time to take-up new interests, roles, and/or careers.  And, for others still, it is a time of declining health, finances, and psychological well-being (e.g., WHO, 2017).  Despite the prominence of select psychologists in the study of retirement, many do not seriously focus on this issue until it is upon them.  The CPA SECTION OF PSYCHOLOGISTS AND RETIREMENT was established in 2012 to provide a "home" for retired CPA members to meet and share experiences of retirement, and for members actively engaged in the study of retirement, many of whom are also members of CPA's ADULT DEVELOPMENT AND AGING SECTION.  This symposium, to be sponsored by both sections, will broadly examine the psychology of retirement from multiple perspectives, focusing on issues of ageism and social exclusion, research on psychological well-being in retirement, and personal narratives of CPA members regarding anticipated and lived experiences of retirement.     Sponsored by:  * The CPA Section on Psychologists and Retirement (SPAR) * The CPA Adult Development and Aging Section  "
The future of Rural and Northern Psychology section: Where have we come from and where are we going?
Veronica Hutchings, Grenfell Campus, Memorial University
Session ID: 71855 – Section Chair Address (55 minutes)
Room: Imperial Ballroom 3 (3rd Floor), 11:30 – 12:30
Section: Rural and Northern Psychology / Psychologie des communautés rurales et nordiques

Psychologists working in rural and northern communities often have multiple roles within their communities.  Given the competing priorities of these roles combined with unique pressures of working in smaller communities where dual relationships are more often the rule than the exception, practising in a rural or northern area can be a challenging experience,   As I approach the end of my first year as chair of the Rural and Northern Psychology section, I am reflecting on what the section has done to help support our slightly more than 100 members.  In this chairs address, I reflect on what this section has done and would like to lead an interactive conversation with our section members on what our section should do in the future to be of most benefit to our members.